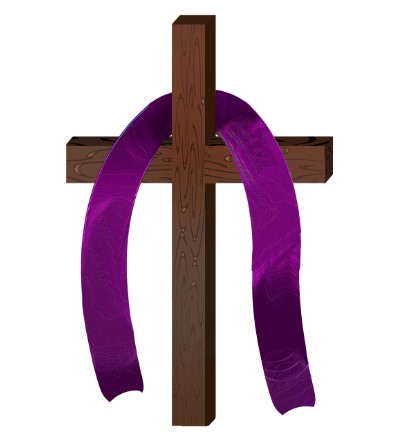 Part II of John Barclay's Paul & the Gift examines "grace" and the various ways it has been presented in Second Temple Judaism. He examines five texts in his analysis—Wisdom of Solomon, the Qumran Hodayot, Philo, Pseudo-Philo's Liber Antiquitatum Biblicarum and 4 Ezra; arguing that grace has been, as Part I revealed, "perfected" differently during the Second Temple period. Barclay argues that as a result the Augustinian reading of Paul (gift-giving being absent of reciprocity) was adopted by westerners is only one of the perfections in order to understand grace. This historical analysis shows that one should look for the similarities and differences of perfected grace between Paul and the writers of Second Temple Judaism. Once seen, "it becomes senseless to ask whether Paul represents 'real' grace, as opposed to its 'diluted' forms in Judaism," and interestingly enough, the question turns to, "how does Paul perfect the theme of divine beneficence and how does his voice compare with others in his diverse Jewish context?" (p. 320).
Barclay examines the Second Temple writings using the backdrop of the six perfections model from chapter 2 (you can get a brief overview of them in my previous post). What he finds is all five embrace the superabundance of God's grace; at the same time, not one of them embraced the non-circularity. Remarkably, this is just another nail in the coffin of the modern idea of grace/gift-giving's coffin; meaning that reciprocity is present in some way of all the writings…
Much like Part I, the careful treatment of these texts is carefully done and worth the price of the book alone. As I summarized the presence/absence of the six perfections in the second temple texts and the historical texts I came to a realization: explaining the nuances of these perfections was confusing, repetitive, and could potentially be an entangled mess for readers to follow (it was difficult for me and I typed it out!). However, thanks to Andrew Wilson, I found the table below; I'm sure you'll find it more helpful than if I attempted to recapitulate with my repetitive rambling.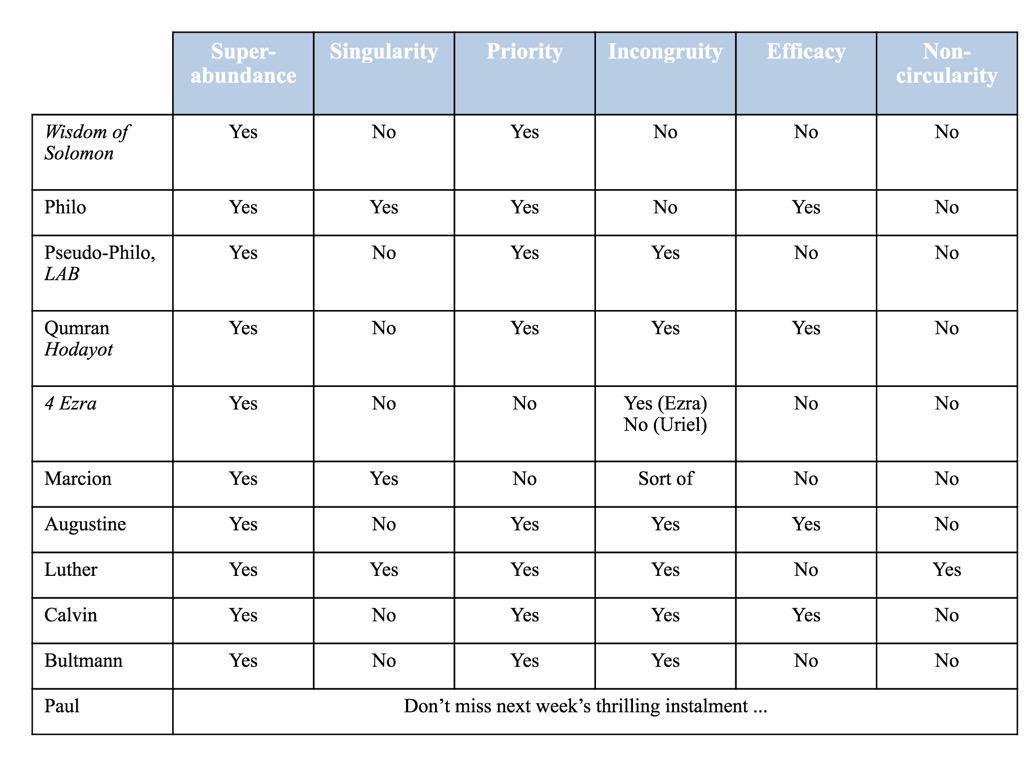 My apologies if the image appears distorted; I had some difficulty with it for whatever reason… The names listed in the left hand column are Wisdom of Solomon, Philo, Pseudo-Philo, The Qumran Hodayot, 4 Ezra, Marcion, Augustine, Luther, Calvin, and Bultmann. Though the names are distorted, the Yes/No in each box is clear. As you can see, grace was not understood the same way by every Second Temple Jew. Barclay's analysis shows why we should not say one form of grace is purer or higher than another because grace clearly was understood differently throughout history. Don't get me wrong, grace is still grace, but not all grace is understood the same.
O'Brien and Richards demonstrate this aspect analogously with the word "know" in their book Misreading Scripture with Western Eyes (IVP 2012); using the example of a police officer pulling someone over for speeding. When the officer asks, "do you know how fast you were going?" when pulled over for speeding. Answering "yes" is understood differently in western culture than it is in eastern cultures. Westerners hear this as a self-awareness question—"are you aware of the speed you were going?"; whereas in eastern culture it is assumed they clearly don't know the speed limit, otherwise they'd obey it. Asking whether or not they know would be redundant in an eastern context because it is culturally nonsensical.
Barclay's conclusion to this component is that each writer's depiction of gift and grace should be appreciated for what it is. He says, "It would make little sense to say that he (Paul) emphasizes grace more than other Jews of his time, but it is also clear that his views are not identical to those of the others surveyed, just as they disagree among themselves" (p. 328). I am grateful for his historical and descriptive approach, as well as the clarity he provides for each figure's take on grace in the Second Temple period.  Barclay helps the reader conceptualize that grace is not an "all in or not at all" mentality we often assume it to be. Everyone he observes believed in grace, even if they understood it differently. The question remains, then, is should all conceptions of grace be accepted equally?  Much like Greg Boyd's "Cruciform Hermeneutic" introduced in Part I of Crucifixion of the Warrior God (click here for my review of it), the historical framework can sometimes appear in tension with Biblical theology, which raises several interpretive questions regarding authority and inspiration. This is not to assert the two are perpetually at odds with one another, though the dynamic of each camp's position appears as "either/or" instead of "both/and"… All one can do from here is look at Paul's understanding of grace/gift and hold it in light of these other writings. Questions of Authority and Inspiration aside, we do know that Paul was a product of his time and culture; it would be foolish to think this had no affect on his understanding of grace and gift, as well his literary use of them. How Paul understood grace is a question Barclay attempts to answer in Part's III & IV.
If you haven't read my previous posts regarding Paul & the Gift ; click the following links for each:
Paul & the Gift: Book Review and Introduction
The Multiple Meanings of Gift and Grace: Part I—Paul & the Gift